Swapping Lit WHAT'S YOURS IS MINE WHEN BOOKWORMS TRADE TITLES ONLINE
Bust Magazine (Magazine) - 6/1/2007 by Marie Glancy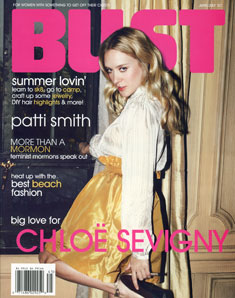 In a perfect world, every bibliophile's shelf space would be measured in miles. In reality, our cramped and nomadic lifestyles can make books a burden. Who has room for a personal library in a studio apartment, or the deltoids to transport so much reading material with every change of address?
Book-swapping websites are turning surplus books from jetsam into currency. BookMooch.com, PaperBackSwap.com. and FrugalReader.com, among others, work fundamentally the same way: you register online for free, listing the books you're ready to give away. When someone requests one, you mail it and pay the postage, thereby earning credit to request a book yourself. You can browse for readily available books, or get in line for in-demand titles by adding them to your wish list. All the sites host discussion forums, too, like book clubs for the Internet era.
Sentimentalists may hesitate to surrender their beloved volumes, but BookMooch founder John Buckman thinks the idea has caught on precisely because books are considered precious. Even if it means leaving a box of books on the street for passerby to help themselves, "No one wants to throw them out-[people are like] please take these books and alleviate the guilt of it," he says.
But with scattershot giveaways, you don't get anything in return. And while secondhand stores usually buy books, they can be choosy. "I'll never throw a book away; I think that's the worst crime, because somebody [will want] to read it," says actress and PaperBackSwap member Zoe Hunter. Book-swap sites help the "somebody" and the book find each other.
It's an especially useful service for out-of-print books. BookMooch, with a focus on elusive titles, was started last August and already boasts 250,000 available books from 91 countries. PaperBackSwap has been araound since 2003 and recently topped the million-title mark.
Even Hunter, who reads an impressive three to five books a week, says she can't keep up with all she's received through swaps. But she's not complaining: " It's like receiving a present when you go to the mailbox," she says. That's a feeling you can't buy.