DVDs Next For Cyber Exchange Forsyth County Resident Founded Online Sites For Trading Books, CDs
Forsyth County News (Newspaper) - 11/23/2007 by Lara Moore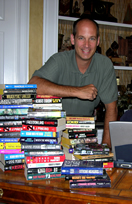 The Forsyth County man who made it possible for bookworms and music lovers nationwide to trade paperbacks and compact discs, plans to expand his vision to DVDs and beyond.
The idea of swapping used items began several years ago when Richard Pickering met Robert Swarthout at Berry College in Rome. They were both frustrated with the high cost of college textbooks.
Pickering said the concept was to create a small textbook exchange for fellow students. Somewhat disgruntled that his friends were selling their "$100 books back to the book store for $10," Pickering and Swarthout expanded the concept beyond academics.
They created an online book exchange program (www.paperbackswap.com), where participants can swap all types of books.
"I thought there was a real opportunity to do something with paperback books, " Pickering said.
He explained that as a former traveling salesman, he compiled a load of paperbacks that he "only read once."
Through his Web site, booklovers across the nation can swap novels for only the cost of postage.
They also can instant message and e-mail each other, maintain book journals and post reviews.
"Three years later, we're approaching 2 million books," he said.
The concept of a CD exchange followed thereafter. Through Pickering's second Web site (www.swapacd.com), launched last year, some 80,000 members are trading and talking about music.
In time for the holidays, the men plan to create a new online venue (www.swapadvd.com) to swap movies. "It'll start sometime next week, " Pickering said Tuesday.
As with the book and CD exchange, the DVD swap will cost members just postage.
"It'll be huge," Pickering said of the concept.
He said they already have 3,000 DVDs pooled from existing exchange members.
If this venture is successful, Pickering said he wants to establish a video game exchange.
In addition to the economic benefits, members like Nora St. Laurent of Cumming, have found the exchange opens social doors.
"I've swapped books from Alaska and all over," said St. Laurent, who works at Life Way Christian Store.
"The people that I meet in the site are just really nice people," she said.
St. Laurent, also a local book club president, said she has established distance friendships through networking.
"It's nice to know your book is going to a good friend's house," she said, comparing it to a "treasure."
Her other favorite aspect of the Web site is the tracking map. Every time a book is mailed, the package is scanned at each post office so members can track it.
"It's fun to look at the map and see which part of the country reads the least," she said.