Staycation Summer
Better homes and Gardens (Newspaper) - 6/1/2009 by Petra Guglielmetti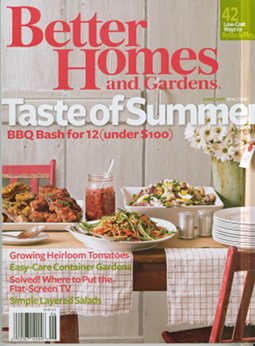 In your home, your garden, your neighborhood-inexpensive, creative summer fun is right in your own backyard.
beach book swap
The beach book. It's a time-honored excuse to relax your literary standards and dive into novels that you might otherwise shun based on cheesy cover art alone. It's easy to blow through a dozen by Labor Day, though, which adds up to a chunk of change, not to mention bookshelf clutter (these aren't usually the titles you want to display in your permanent collection). A fun solution: Start this summer off with a beach-book swap. Invite friends to come over one afternoon for cocktails and appetizers and have them bring all the easy-read paperbacks they want to unload. Arrange the books on tables so everyone can browse and refill their bags with new titles.
If you'd rather keep your trashy-novel habit under wraps, you could join an online book club like paperbackswap.com, where you earn credit by sending your used books to people who request them. You then redeem the credits to order whatever books you want to spend quality sand time with next.