Paperback Swappers: Web Site Excites Readers
North Adams Transcript (Newspaper) - 5/20/2006 by Karen Gardner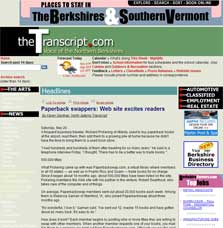 A frequent business traveler, Richard Pickering of Atlanta, used to buy paperback books at the airport, read them, then add them to a growing pile at home because he didn't have the time to bring them to a used book store.
"I had hundreds and hundreds of them after traveling for so many years," he said in a telephone interview Friday. "I thought, 'There has to be a better way to trade books.'"
500,000 titles
What Pickering came up with was Paperbackswap.com, a virtual library where members in all 50 states — as well as in Puerto Rico and Guam — trade books for no charge. Since it began about 18 months ago, about 500,000 titles have been listed on the site. Pickering maintains the Web site with his partner in the venture, Robert Swarthout, who takes care of the computer end of things.
On average, Paperbackswap members sent out about 20,000 books each week. Among them is Rebecca Gamari of Stamford, Vt., who joined Paperbackswap about three months ago.
"It's wonderful. I love it," Gamari said. "I've sent out 12, maybe 15 books and have gotten about as many back. It's easy to do."
How does it work? Each member begins by posting nine or more titles they are willing to swap with other members. When another member requests one of your books, you mail it to them in a wrapper you print out from Paperbackswap.com. Although you pay the cost of postage — typically about $1.59 — when you request a book from someone else, they return the favor. The books themselves are free.
For each book they mail out, members receive a credit, good for one book they may order from the system. New members get three credits to help them start trading.
"I'm just an avid reader," Gamari said. "I just would rather take someone's used book than go out and have to buy brand-new books every time I want to read."
Gamari said the Web site has the books she wants to read.
"They show up within a couple of weeks, if not less, so I love it," she said.
There are four different ways to search for a book online — by genre, author, title or by browsing the entire list in alphbetical order. When you find what you want, you click on it.
"The system keeps track of who has the book, and it's based on whoever posted the book first would get the book next," Pickering said.
The automated system then sends the book holder a message, asking them to mail out the book, which they wrap in two pieces of paper they print out from the site. The wrappers include the address of where the book needs to be shipped, as well as their return address, a bar code for postal processing and the calculated postage, so members know how many stamps they should put on the package.
"You wrap it like a present, tape it up and pop it in your mailbox," Pickering said. "You don't even have to go to the post office."
Last week, Paperbackswap.com implimented a new feature — delivery confirmation with the United States Postal Service at a reduced rate, which allows the Web site coordinators to track each book sent out and give credit its sender as soon as its mailed.
"We worked out a unique system with the postal system whereby we interface directly with their tracking system," Pickering said. "We are able to identify the book when it comes into the postal system, track it as it moves from one state to another ... and instead of paying 60 cents (to track the book) at the post office, use our system and you can do it for 42 cents."
Paperbackswap.com and the postal system share the revenue from this feature. Pickering's wife, Lynn Pickering, said plans are in the works for a Paperbackswap.com store, where people can purchase Paper-backswap hats or T-shirts.
"But the goal is to grow into what we call the world's biggest virtual library in the world and, down the road, there are alternative ways that we're looking into making an income on it," she said.
Besides being a way avid readers can trade books, Paper-backswap.com has become a social networking site of sorts, Pickering said. The Web site offers discussion forums, live chats, a buddy list and it allows members to send personal messages to one another. Some members formed mini book clubs and trade amongst themselves.
"So many people are so thrilled with the prospect to be able to talk about books and share good books with other members," he said. "We have people that will probably never meet in person all over the United States, who have ongoing and strong relationships through Paperback swap."