Free Books For The Trading
Pages (Magazine) - 6/1/2006 by Marcia Layton Turner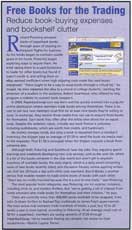 Richard Pickering amassed stacks of paperback books through years of reading on frequent flights for business. As the books began to overtake usable space in his home, Pickering began exploring ways to recycle them. He tried taking them to a used bookstore to trade for books but found it wasn't worth it, and selling them on eBay seemed inefficient when high shipping costs made the used books overpriced. "There ought to be a way to swap books through a virtual list," he mused. He then repeated the idea to a crowd of college students, catching the attention of a student in the audience, Robert Swarthout, who offered to help program a website to connect book swappers.
In 2004, Paperbackswap.com was born and has quickly evolved into a popular online destination where members trade books among themselves. There is no cost to join but new members first list at least nine books they're willing to swap. Despite the website's name, virtually any book format is welcome, including audiobooks, which are worth two credits, and hardcovers.
No money changes hands, but once a book is requested from a member's inventory, the shipper pays an average of $1.59 to send the book via media mail to the requestor. That $1.59 is recouped when the shipper requests a book from someone else.
Although both Pickering and Swarthout have day jobs, they regularly spend evenings and weekends developing new club services, such as the wish list, which is a list of books someone in the club wants but aren't yet in anyone's inventory of available books; the daily digest, which is a daily email containing news of new books recently listed; and discussion forums, where aspiring writers can chat live 24 hours a day with other club members. Box-O-Books is another service that enables readers to trade entire boxes of books with each other; "there are no credits involved because this is a one-to-one trade," says Pickering.
The most popular book categories, says Pickering, are no surprise: romance, including chick lit, and mystery thrillers. But "we're getting a lot of interest from home schoolers who trade books from themselves and their children," he says.
There are currently more than 400,000 books available to be swapped, from John Grisham thrillers to Rachael Ray cookbooks to James Frey's quasi-memoir. The most active club members trade hundreds of books a year, but 15 to 20 books a year is more typical, according to Pickering. At an average retail cost of $8 for a paperback, members are saving upwards of $120 through PaperBackSwap, not to mention freeing up valuable real estate on their bookshelves.