Recycle Your Books
The Kim Komando Show (Radio) - 9/30/2006 by Kim Komando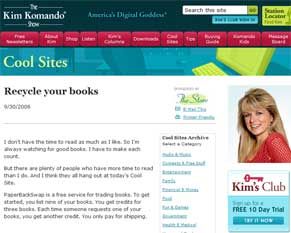 I don't have the time to read as much as I like. So I'm always watching for good books. I have to make each count.
But there are plenty of people who have more time to read than I do. And I think they all hang out at today's Cool Site.
PaperBackSwap is a free service for trading books. To get started, you list nine of your books. You get credits for three books. Each time someone requests one of your books, you get another credit. You only pay for shipping.
This is a great way to recycle books you've already read. And you'll find lots of bestsellers on the site. I think I'll start listing some of my old books!