The New Swap Meet
The Topeka Capital-Journal (Newspaper) - 1/4/2007 by Taylor Atkins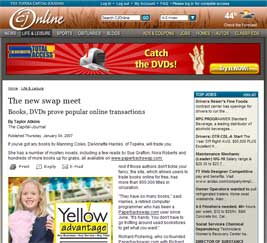 f you've got any books by Manning Coles, DeAnnette Harries, of Topeka, will trade you.
She has a number of mystery novels, including a few reads by Sue Grafton, Nora Roberts and hundreds of more books up for grabs, all available on www.paperbackswap.com.
ONLINE TRADING Books: www.paperbackswap.com CDs: www.swapacd.com DVDs: www.peerflix.com Giftcards: www.cardavenue.com
And if those authors don't tickle your fancy, the site, which allows users to trade books online for free, has more than 900,000 titles in circulation.
"They have so many books," said Harries, a retired computer programmer who has been a Paperbackswap.com user since June. "It's handy. You don't have to go trotting around used bookstores to get what you want."
Richard Pickering, who co-founded Paperbackswap.com with Robert Swarthout 21/2 years ago, said his company continues to grow every day. He estimates 30,000 books are traded between members every week.
"What we're able to do is take the concept of neighborhood book clubs and expand it all across the country," he said. "Until someone tells me differently, I think we're the largest book club in the world."
Paperbackswap.com has members in all 50 states, Puerto Rico, Guam and several international military bases. All members make lists of what books they have available to send out and another list of books they would like to have. The Web site then matches up the members who have the book with those who want it, or members can browse for interesting titles.
But books aren't the only items being traded on the Web. The concept of trading unwanted items for new-to-you goods has taken off in the last year as an alternative to Amazon.com or eBay, where used items are simply purchased.
Barnaby Dorfman is vice president of products for Peerflix.com, a site where people can trade DVDs. He said he thinks the online trading industry has grown significantly because it's a win-win situation — people get rid of the old and get something new at a low cost.
"There are 6 billion DVDs sitting around — that's how many have ever been sold," Dorfman said. "You have this locked-up investment. By trading, it can kind of release it. Why not turn something I don't want into something I will want and I will watch."
For Paperbackswap.com and Peerflix.com, real money is never exchanged. The only cost to the member the postage for sending out an item to the person who requests it, usually no more than $2. And the postage is automatically calculated for you by the Web site, a mailing sheet is printed out and the need for the post office is eliminated.
Once a book or DVD is sent out, members of the Web sites receive a credit, which are then used to get items sent to them. On Paperbackswap.com, sending out one book earns one credit, which is the cost of getting any book sent to you.
Dorfman said Peerflix.com is somewhat different. Credits, called trading bucks on the site, are used to get DVDs sent to members, but the amount of trading bucks needed for each movie varies based on when the film was released and on supply and demand.
High supply or cheap doesn't mean it's a bad film, though. Dorfman said hundreds of great films, such as "The Matrix," are in high demand simply because it was one of the highest-selling DVDs of all time.
Harries said the great titles aren't the true benefit of Internet trading sites, however. She enjoys the social aspect.
"You meet the nicest people. Just read through the discussion forums. You can post anything and get advice about anything," she said.
Along with chatting about new authors and good reads, Harries has asked for help on how to make peanut butter fudge. She also has seen other people have ask for advice on more serious issues, such as coping with death or dealing with financial difficulties.
"There was one lady who had some severe financial problems. So another lady started a postage fund for her. We all bought her books of postage stamps, so she could continue swapping books," Harries said. "There's just an outpouring of support. It's nice to know someone is out there."
Paperbackswap.com, its sister site, swapacd.com, and Peerflix.com offer discussion forums, live chats, places to review items and even games on their sites. Paperbackswap.com just started a new option, called The Eclectic Pen, where members can post their own writings, as well.
Pickering said in many ways the future success of the site is in the hands of the users.
"A club is only as good as its members. The creativity of our members is outstanding," he said. "What we've found is that members are trying to form paperback swap groups within the cities they live. It's really ironic because we started these virtual book clubs and now they are meeting in reality."
Harries said she would enjoy meeting some of the people she has chatted with online because the site and the people have helped her feel better about trading the boxes full of books she has collected over the years.
"A good book to me is one you can read over and over. I used to hold on to all of those, but this has changed what I keep and what I trade," she said. "Now that I know they will be read, I'm more willing to let some go."